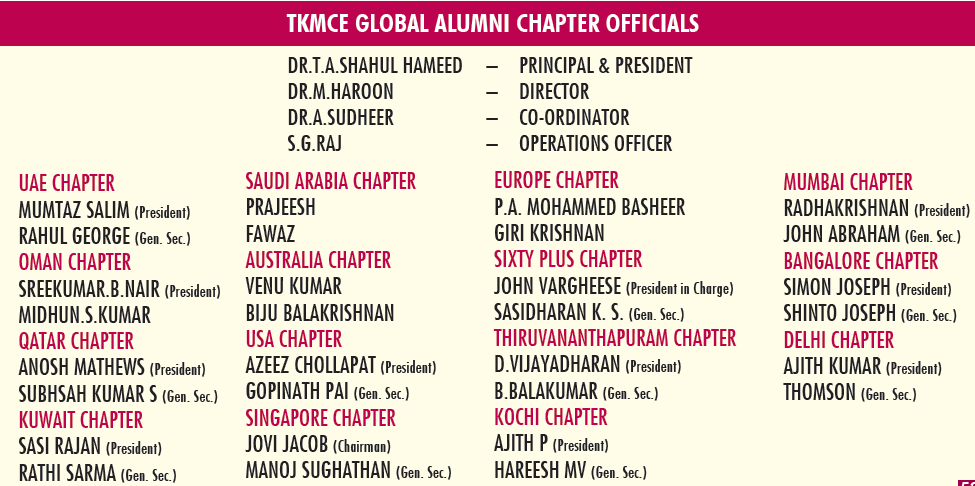 TKMCE GLOBAL ALUMNI- ACTIVITY REPORT
TKMCE Global Alumni operations are headed by the Principal, Dr. T.A. Shahul Hameed, who is the President of our Alumni association, Dr. Sudheer A., Global Alumni Coordinator & Associate Professor in Mechanical Department along with Mr. S G Raj, Alumni operations officer. The activities are effectively controlled and guided by the directions of Dr. M. Haroon, TKM Trust member & the Director of Alumni Operations. A variety of programs were organised from June 2020 onwards which strengthened the bonding between our Alumni and Almamater, some are listed below.
Global alumni logo design
Chapter officials and representatives from UAE, Oman, Saudi Arabia, Qatar and Kuwait were called for a connectivity meeting through Google meet platform along with TKM Trust officials, Principal and Global Alumni team on 10/7/20. Several matters including ways for strengthening the bond among Alumni and role of Alumni in developing the institution were discussed in the meeting. It was decided to make a Global Alumni Database to support its activities.
Global alumni meeting with USA, Europe and Singapore chapters
TKMCE Global Alumni organised the second connectivity meet involving USA, Europe and Singapore chapters on 18/7/2020 with TKM trust and college officials which again turned very attractive with discussions on collaborating with foreign institutes and strengthening of the placement activities. Possibility of having a Global alumni meet in the year 2021 at USA were also discussed.
Global alumni meet with Indian and Australian chapters
Indian and Australian chapters attended the third connectivity meeting organised by Global Alumni on 02/08/2020 along with TKM Trust officials and Principal. Apart from the previous meeting agendas, developing a web portal for Alumni as part of college website and data collection google form was also discussed.
Global alumni registration portal
This was created on 25/8/2020 and was circulated among all our Alumni Groups. The registration process is still going on although it is slow.
Up, close & personal with Mr. Joy Sebastian
Global alumni started its talk series through the national innovation challenge winner and our alumnus from MCA batch on 28/8/2020 which turned out to be a great experience for all those who attended. The life story of Mr. Joy was quite astonishing and his achievement was well appreciated by our Alumni and student community.
Up, close & personal with Mr.K.Rajaraman IAS
The second talk of the series was with one of our senior Alumnus Sri. K.Rajaraman IAS, additional secretary-Investments, Department of Economic affairs, ministry of Finance, Government of India on 20/09/2020. The session was attended by many eminent Alumni along with staff and students of TKMCE. The Civil services club also joined hands with the program as it was beneficial for all civil service aspirants.
Up, close & personal with Mr.Jacob Thundil MBE
The third talk of the series was on 30/10/20 with our alumnus of 1996 mechanical batch Sri.Jacob thundil, who recently got distinguished as the Member of British Empire being a successful entrepreneur as CEO of Cocofina. His talk gave lot of entrepreneurial outlooks and was highly motivating for the students of IEDC, TKMCE
Up, close & personal with Mr. Suraj Mani, Rock musician.
Global alumni had an entertainment session as part of Christmas celebrations through a Musical program on 23rd December 2020. Suraj, who is a singer, composer and lyricist by himself was interviewed by Mr.Binsu Joy of UAE chapter, and the program rocked the google platform with his own compositions which hit the top of chart busters among Indian and world music.
TKMCE endowment fund
Global alumni supported the initiative by our senior alumnus Sri. Antony Prince, CEO of Smart engineering and Design solutions, to support our college in setting up new labs which is expected to add more value and credibility to our institution.
Global Alumni is supporting all the activities by various chapters by establishing connectivity and taking part actively in coordinating the various chapter initiatives, the recent ones being the global musical program by Oman chapter and TKM International Film fest by UAE chapter. Global Alumni is also involved in coordinating various charity initiatives by its Global chapters.
Global Alumni has recently triggered the formation of many new chapters like Mumbai and Saudi Arabia and is well connected with all its Global chapters like UAE, Oman, Qatar, Kuwait, Singapore, USA(California, New York, Texas), Europe, Kochi, Tvm Mumbai, Delhi ,Bangalore and TKM Sixty plus. Global Alumni is working to form official structures for a few chapters who don't have a formal structure as of now, by the year 2021.