TKM joins Vaccine Challenge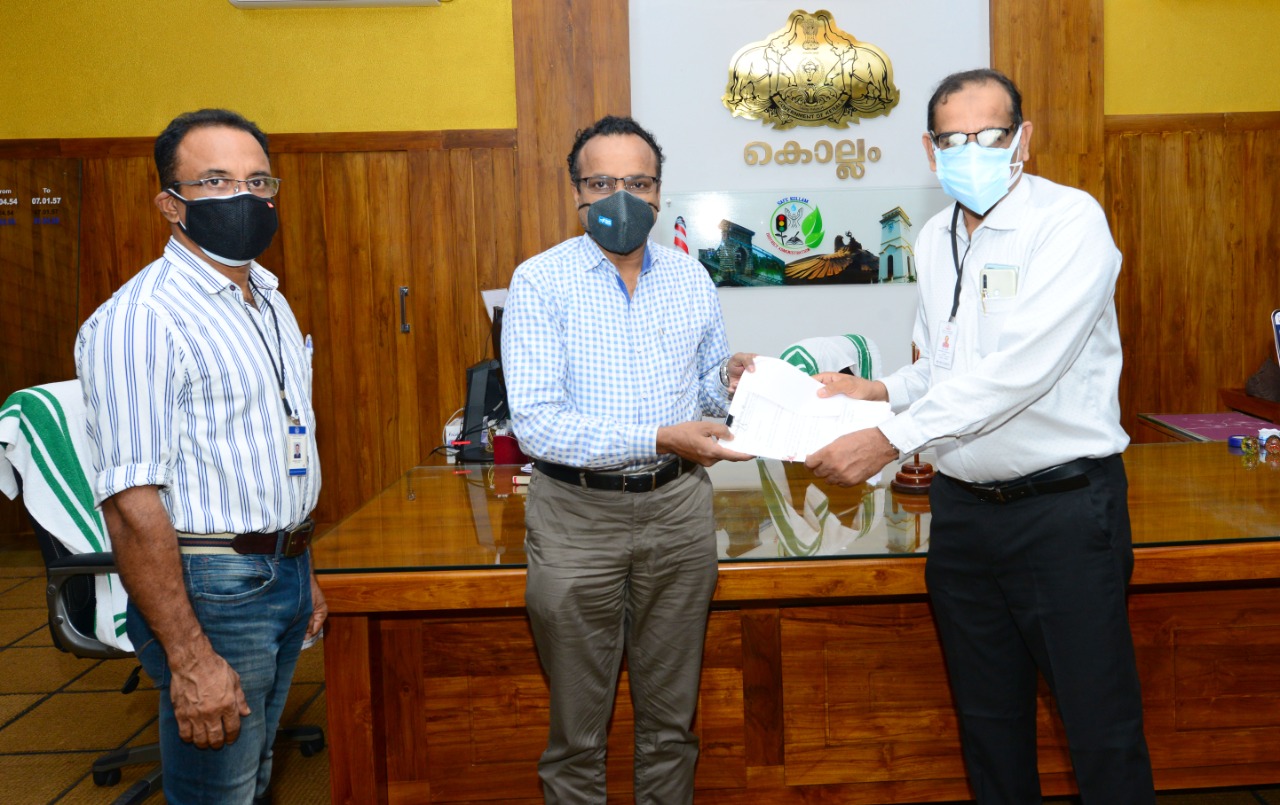 TKM Trust and the employees of all TKM group institutions together contributed an amount of Rs 10 Lakhs to Chief Minister's Distress Relief Fund (CMDRF) as part of vaccine challenge. Principal, TKM College of Engineering has handed over the amount to District Collector, Kollam at his chamber.
Back to Home
Back to Home projects is one of the prestigious projects that the College has undertaken as part of the social commitment of the institution. The project spanned the period from August 2018 to February 2021. The objective of the project was to take part in the reconstruction stage of the flood crisis management in Kerala. The project envisaged to construct houses for the flood hit areas of Kerala with financial support from the Alumni Association of the college.
For the construction of houses at areas like Munroe Island, 80 percent of the components used were factory manufactured. Only tie beam at plinth level connecting precast grid beams and screed concrete above precast roof slabs were cast in situ. The foundation was grillage with precast pre-stressed concrete beams filled with 40mm aggregate to avoid or limit settlement. Precast and pre-stressed concrete cavity walls helped faster construction and insulation of heat and sound. The roof was made of pre-stressed concrete beams laid at regular intervals with roof slabs laid one above the other with screed concrete laid over it to ensure water proofing. In the construction of some other houses, infill technology was used. The v-boards helped to regulate indoor temperature six degrees less than that in the exterior.
The college has completed 16 houses at different parts of Kerala under the Back to Home project. Three houses were constructed and handed over to the beneficiaries at Munroe Island. One was to Mr Rajan and Mrs Usha, another to Mr Rajkumar and Mrs. Jessi and the third was to Mr Santhosh and MrsDeepa. One house was constructed and handed over to two children, Sridevi and Sreelekshmi at Thettichira, Karicodu. At Pandalam, two houses were constructed and handed over to the beneficiaries. One was to Mr Sadikh and Mrs Shahina and the other was to Mr Mohammed Saddik and Mrs.Latheefa Beevi. The beneficiaries of the house constructed at Kanjavalli were Mrs.Hannath M andMr. Nizam. At Budhanur near Chengannur, one house was constructed and handed over to Mrs. Jagadhamma and Miss. Anashwara and another house at Pandanadu near Chengannur was given to Mr Ratheesh Kumar and Mrs. Maya. One house was constructed at Peroor and given to Mr Thankappan and Mrs.Savithri. One of our students who was badly affected by the flood at Champakkulam in Alappuzha district was also given a house under this project. The house constructed under the Back to Home Project at Arattupuzha was handed over to Mr Podiyan. One house was constructed and handed over to Mrs Rageena K at Thazhampana, near Peroor. The 14th house was constructed at Vellimon and it was handed over to Mr.Jerome M and Mrs.Remani.
Construction of two houses at Edappal in Malappuram district was also completed under this project. One of them was financed by the TKM College Trust and the other was financed by the TKMCE Alumni Association. The beneficiaries of the two houses were Mr.Musthafa A of Alimakkanakath house and Mrs.Kalyani of Karuvathiparampil house, both at Edappal.